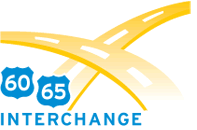 Well, for those of you who have not had the opportunity to try the new US 60/65 Interchange in Springfield, MO, you are really missing a huge improvement in local travel. Granted only the northbound US 65 ramp to west bound US 60 is open at this time, but I can't even begin to tell you how wonderful an experience that was.
NO MORE CLOVER CLUB!!!
YIPPEEEEEEEE!!!!!
I don't know about you, but getting on and off that ramp alone was enough to bring on cold sweats. I know plenty of people who would avoid the ramp at all costs. It baffles me how there weren't more wrecks there. It would be one thing if everyone getting on and off drove the same way, but that never happened.
First, you would have your speeders, those who would fly on and off without yielding (If you are one of these, you know what I am talking about). Then you would have your stoppers, those who would get to the top of the ramp and then just stop, waiting for traffic to pass, which I almost found myself in 2 or 3 wrecks because of this. And finally you would have your mergers, who would not stop, but cautiously merge on and off, which I would have to say would be me. Not that there is one right or wrong way, but it sure made for some scary exits and merges.
Well, we can now all begin to breathe a sigh of relief, because those fearful days are coming to an end. The new northbound US 65 ramp to west bound US 60 opened on Sunday 10/17/2010. And last night for the first time, as I was taking the family to dinner at HuHot Mongolian Grill, I was able to experience this new off-ramp. What a pleasure it was! The only confusion one might have is that you need to make sure you veer off to the right or you will take the off-ramp heading towards Rogersville. See the picture to the right to see what I am talking about.
For those of you who have been staying clear of the US 60/65 Interchange in Springfield, MO because of how dangerous the clover club of old was, go give the new US 65 off-ramp a try. I think you will really like what you see. No more worries! Ok, I guess we are still on the roads with lots of crazy drivers, but I guarantee this will take a lot of those worries away.
One last note, you might want to watch IRT Deadliest Roads on the History Channel if you think our old clover club was dangerous. It might make you appreciate our roads here in the US just a little bit more. I know it did for me. One night of watching this show and I was convinced I would take the clover club any day over what they have to deal with.
Get out there and experience the new off-ramp. Let us know what you think. Don't take for granted all the work that has gone into this new project. Thanks MoDOT for the great improvement!