UPDATE: FHA Changes Effective September 15, 2015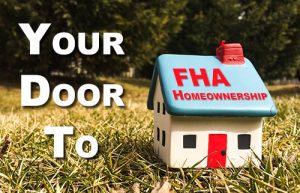 FHA Home Loans are not as popular as they once were, but they are still a good option depending on your circumstances. They were introduced in 1934 to help the middle class achieve home ownership during the Great Depression. Since then, FHA home loans have helped middle and low income families achieve the dream of owning a home.
What are FHA Home Loans?
FHA home loans are federally assisted mortgages that are insured by the FHA (Federal Housing Administration). As mentioned above, they were established during the Great Depression of the 1930's in an effort to provide lenders with sufficient insurance at a time when foreclosures and defaults rose rapidly. Some of the FHA programs were government subsidized, but the goal was to make them self-supporting, based on insurance premiums paid by borrowers.
Today FHA loans are primarily for people who cannot afford a conventional down payment or do not qualify for PMI (Private Mortgage Insurance). In order to get one of these loans you need to go through a federally qualified FHA lender.
What are the FHA loan requirements?
Generally speaking, FHA loan requirements are more lenient than those of conventional lenders. Below is a list of requirements for an FHA loan:
Steady employment for at least two years, preferably with the same employer.
The borrowers will need to show a steady income for the past two years.
Borrower should have a minimum credit score of 660 (620 may be possible).
The FHA may allow a home purchase after Bankruptcy/foreclosure, but the borrowers will need to have an excellent credit record since that time.
The borrower's debt-to-income ratio should be less than 41% and monthly payments should be no more than 30% of the borrower's gross income.
An important part of an FHA loan is the appraisal. In order for a home to go FHA, the home must meet specific FHA appraisal guidelines. Below are some of the appraisal guidelines. For more up to date information we suggest that you visit HUD (U.S. Department of Housing and Urban Development).
An appraiser from FHA's approved appraiser list must be used.
Typically the house systems; foundation electrical, plumbing, HVAC, roof, etc. must be in full working order.
House should have good drainage, no chipping/peeling paint, full floor/wall/ceiling covering, no damaged windows/doors.
"Fixer-Uppers" generally do not qualify.
Is an FHA inspection required?
Many people confuse an FHA inspection with the FHA appraisal. An FHA appraisal is required, whereas an FHA inspection is not. The FHA appraisal is for the lender, not the borrower. During the FHA appraisal the appraiser will do a brief overview on the condition of the home to make sure that it will meet the FHA loan requirements. This is where most people mistakenly assume that the FHA appraisal is a guarantee that the house is in good condition. We highly recommend that you do not assume this and hire a home inspector to give you a full home inspection.
Currently FHA does not require that you get a home inspection. With that being said, as stated above, a home inspection would be in your best interest. We highly recommend that you get one before you purchase the home. Some of the advantages of a home inspection are:
You will be able to identify potential problems with the home and request repairs before purchasing.
You will get an estimate of the remaining useful life of the home's structure and mechanical systems.
You will get an overview of the home's structure and construction work.
Overall, you will have a better idea on the condition of the home you are purchasing.
After the home has been inspected you will receive a final inspection report that details all the findings during inspection. The final inspection report is very important as it can protect you from making a very poor investment.
One final note, you must remember that the FHA appraisal provides insurance for the lender, not you the borrower. FHA does not guarantee anything and they will not buy the home back from you if you find any problems after closing; all the more reason that the small amount that you will spend for a home inspection is well worth your time and money.
Do I have to get FHA Mortgage Insurance?
FHA mortgage insurance, also known as PMI (Private Mortgage Insurance) or MIP (Mortgage Insurance Premium), is required on all FHA loans. If you have 10% or more to put down, the PMI is on the loan for 11 years and for the life of the loan if you have less than 10% down.
If you are interested in an FHA home loan and reside in the state of Missouri please click Apply Now to fill out our application and get pre-qualified today.