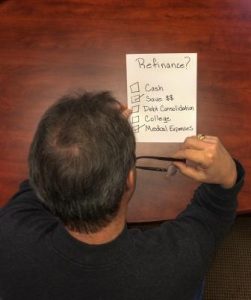 When should you refinance a home mortgage?
The old rule of thumb used to be that if you don't get at least 1% off your current mortgage rate, then you should not even think about refinancing…this is FALSE!
The best way to determine if you should refinance is to ask yourself one simple question, "How long do you plan on keeping the loan?"
This is the most important question because, if the refinance can save you many times more than it will cost you to refinance, then you should do it. This is what we call your breakeven point.
Here's an example:
Let's say that by refinancing you will save $100 per month on your house payment, but it's going to cost you $2,400 to do it. That means it would take you 24 months to save what it would cost you to refinance. Therefore your breakeven is anything longer than 24 months.
($2,400 cost divided by $100 savings per month equals 24 months to break even.)
So, as long as you plan on keeping the loan years longer than the break-even of 24 months you WIN!
Another good reason for refinancing is to take cash out of the equity in your home to pay for other important things such as college, home improvements, medical expenses, debt consolidation, or investing. Many choose to refinance to get out of a less attractive loan such as an adjustable rate mortgage (ARM) or a balloon mortgage.
Are you needing to refinance or have more questions on the refinancing process?  If you are interested in a refinance home loan and reside in the state of Missouri please click Apply Now to fill out our application and get pre-qualified today.  For more information please contact us.