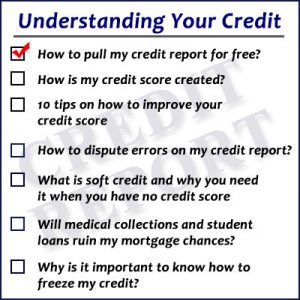 One of the questions that we get a lot in the office is how can I check on my own credit. Now most of us don't even know where to begin or are sometimes too afraid to even look at what our score is. While it may be scary or disappointing on what your credit score may be, knowing what you're working with is essential to fixing the problem! In this mini-series we'll be going over how to get my credit report for free, knowing the terminology they use, how they figure your credit score, disputing misinformation on your reports, how to freeze your credit and some other tips.
Pulling Your Credit Report for Free
In the spirit of helping you in these steps I'm actually going to be going through the process with you as well. Now read this carefully. When looking for websites to give you your credit report, be aware that a lot of them will ask for all of your information and then require a credit card to view your information. STAY AWAY FROM THESE WEBSITES. The website that you need to go to is annualcreditreport.com. This website was created in order to allow consumers the ability to check their credit reports for free. I will let you know that this is going to give you balances and any kind of negative information but NOT your credit score.
Step 1. You will fill out all of the private information that they require such as your full legal name, social security number, and date of birth.
Step 2. After that it will ask you which reporting bureau you would like to obtain a copy from. Now you have three options here. You can get your report from each of the three bureaus all at once, one at a time and space out each individual one out throughout the year, or a mixture of the two and look at them whenever you want. If you're new to your credit I would suggest getting them all three at once so you have a nice base to go from. This will mean that you'll have to wait on full year after to pull another inquiry like this though so take a little time to think about it.
Step 3. Once you've made your selection on which ones you'd like it will ask you some personal questions from your credit profile that only you should know. This may include information from credit cards, previous addresses, auto loans, mortgages and any other information that may be on there.
Step 4. Then when that gets approved you're able to view your reports and see if there is any misinformation on there. If you see anything on your reports that may not make sense or are completely incorrect dispute these problems NOW. There's an easy link from each credit bureau that you click on and then you give it an email address for the proper paper work to be sent to. The reason you need to do it now is so that you can get it resolved as quickly as possible so it won't affect your credit any longer and so you don't forget to have it updated if you have a bad habit of putting things off (I too do this unfortunately). However we'll go into more detail about disputing charges in another blog post.
Step 5. As you're going through your reports take a highlighter and begin marking any kind of incorrect or negative information that you need to clear up. If you've never had a certain account before that is showing up PLEASE make sure to speak with anyone that may have had access to your private info such as a spouse or family member and if they don't know either dispute these as it could be possible identity theft.
Step 6. Once you've gone through your reports with the highlighter begin tracking what exactly may be negatively impacting your credit. These could be things such as past due accounts, bankruptcy, judgments, and collections. Once you have these written down you need to focus your efforts on ways to clear up those problems.
Step 7. You may need to make a new budget for yourself and start making some changes in your spending habits. Unfortunately bankruptcies will be on your credit report for 7 years if it was chapter 13 or 10 years for chapter 7 so it's just a waiting game for those to disappear.
Now if you're looking for some actual credit "scores" you can go to CreditKarma.com and create a profile. They use both TransUnion and Equifax to give you a pretty good estimate to what your score is. I've found that these scores may not be completely accurate if you go on there and then have your credit pulled a couple days later if you're trying to open another line of credit like buying a house, car, or applying for a new credit card. However, this is still a good tool to use if you're trying to keep track of your credit score and hopefully watch it start to climb! For more information about your credit keep track of our mini series and look for our next blog " How is your credit score created".