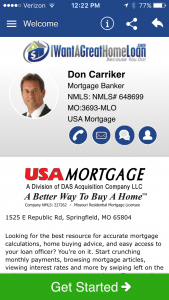 We're excited to announce that IWantAGreatHomeLoan.com has a new mobile app!
It's a mortgage calculator with taxes and insurance as an added option.  This is a great tool for estimating what your new house payment will be.
Our new mortgage calculator is now available on both Google Play and the Apple Store!
It's packed with a bunch of useful features such as calculating your complete mortgage payment, looking at your options for refinancing, and being able to compare loan programs that you could possibly qualify for such as FHA, USDA, VA, and a regular conventional loan.
Not only does it compute mortgage calculations, it serves as a line of communication between you and our great team. If you have a specific question, Don's phone number and email are both there so you can call, text, or email your questions directly to him without having to look up our contact information.  All this can be done from within the app!
Most of the mortgage calculators out there end up only computing what your principle and interest payment would be. Without adding in your taxes, insurance and possibly mortgage insurance, you will not get an accurate estimate for when you're making your budget. This can lead to bad surprises once you have already found a house and put in a contract or when you're thinking about refinancing.
Our mortgage calculator with taxes and insurance gives you the option of putting in your insurance quote and taxes amount so you can have a more accurate estimate.
We have put together some screen shots or our new app for you to check out below.  We are excited to bring you this new mobile app and all that it has to offer.